This Sunday, October 21, 2012, 7-9PM
Will Brown and the SFMOMA Holiday Party Committee Present
Sweet Treats From the Impermanent Collection:
(Internally Commissioned) Movies & (Build Your Own Richard Serra) Cookies
With Special Guests:
Paul Clipson, Filmmaker, Projectionist, SFMOMA
Leah Rosenberg, Head Pastry Chef, SFMOMA Blue Bottle Rooftop Cafe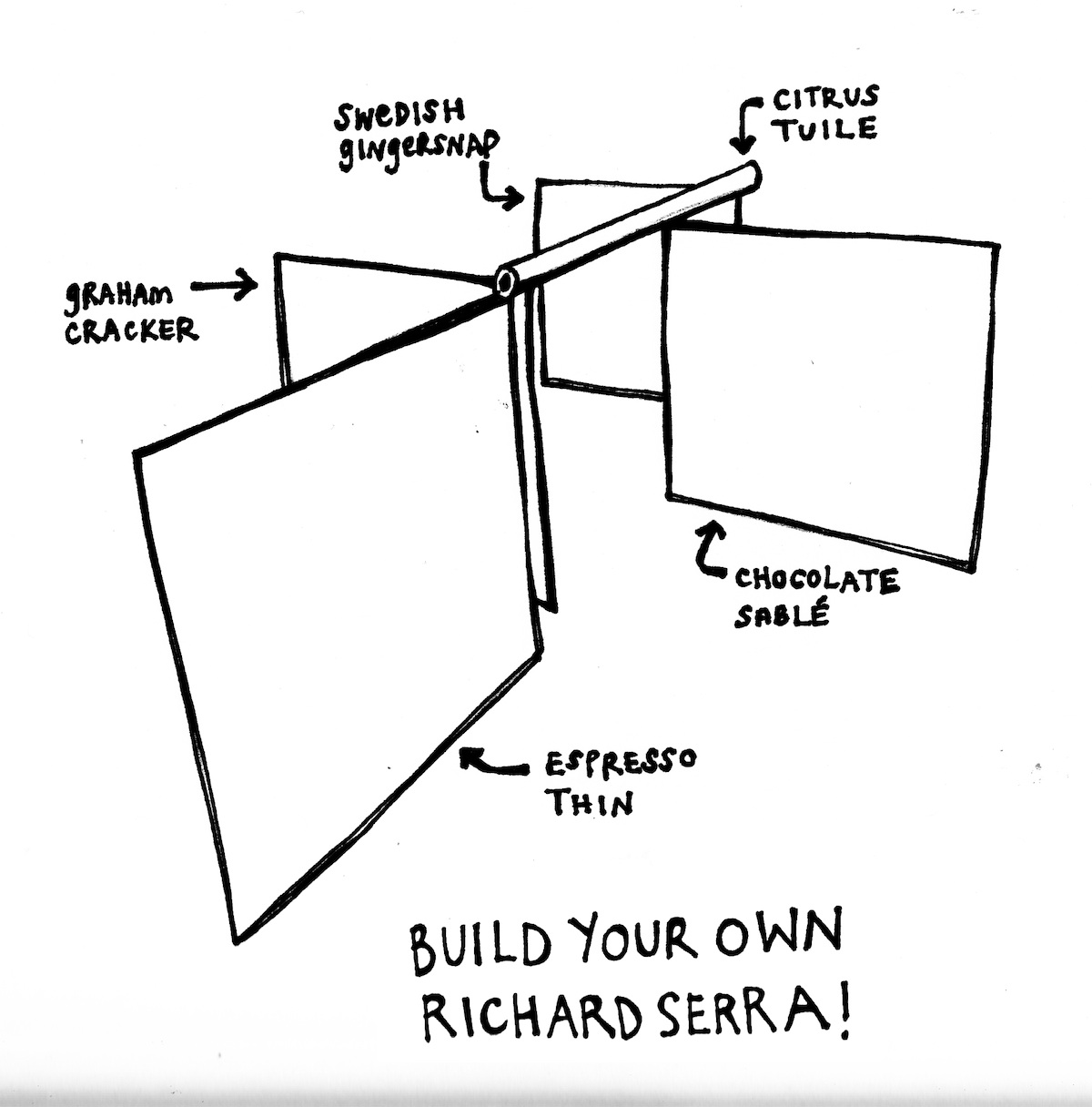 Films: All Evening
Cookie Presentation: 7:30PM
From her Blue Bottle perch atop the San Francisco Museum of Modern Art, Leah Rosenberg and her colleagues Caitlin Freeman and Tess Wilson invent sensationally elegant art-inspired desserts that rotate with the varied museum exhibitions. Highlights include the Mondrian Cake, Ellsworth Kelly Fudgsicle, and most recently, Cindy Sherman Ice Cream Float.
In 2010, when Richard Serra's 1-1-1-1 (1969) was included in SFMOMA's 75th anniversary exhibition, the team came up with a dynamic cookie plate inspired by the weighty work. That was all delicious until the Food Network sought Serra's consent to profile the goodie in an upcoming segment. Then came the cease and desist letter. "Of course we never want to cause trouble, so we complied," says Rosenberg. "And we packed up the 500 leftover Richard Serra napkins."
Fast forward to Serra's SFMOMA "Drawing" retrospective a year and a half later. One afternoon the artist made his way up to the cafe with Curator Gary Garrels. "I mentioned to Gary that I wouldn't cause any trouble," Rosenberg notes, "but thought perhaps Serra would just need to see the desserts in context and maybe he would want to mastermind something himself." Wishful thinking. "This is where the real story begins," the chef concedes, "and where I learned Richard Serra truly is a tough cookie."
For two years, the plans (and napkins) have sat in a veritable layer cake of sugar-coated museum dust. On Sunday night, however, Leah will recount her dramatic rooftop conversation with Serra and once again serve her unendorsed cookies. Bring a sweet tooth. And a lawyer.
RELATEDLY AND IN CONJUNCTION WITH:
In addition to creating some of the most lyrically abstract films around, artist Paul Clipson also works as the Projectionist at the San Francisco Museum of Modern Art. Each year, the museum's Holiday Party Committee commissions the artist to create unique film compilations to play in the background of the annual holiday bash. Culled from countless classic Hollywood films and focusing on a different theme each year, Clipson stitches together extraordinary visual mix-tapes to the delight of his colleagues. Armed with an encyclopedic knowledge of cinematic history, he's authored five incredible programs thus far: Snow, Parties, Drinking, San Francisco on Film, and Art & Cinema. On Sunday night, we'll be projecting as many as we can, but definitely Art & Cinema -- a non-stop collection of film sequences in which artwork is featured as a background character. The films, which range from 20-60 minutes, will be looping all evening.
"From my teenage years on, I've had a predilection for cutting scenes from films into concentrated thematic montages in my mind." A regular Christian Marclay for hire.
The films of Paul Clipson have screened at the New York Film Festival, the Rottendam Film Festival, and the Pompidou Centre in Paris, France, among other esteemed locales. The holiday party mix-tape montages of Paul Clipson have screened in the SFMOMA Schwab Room, Jillian's Sports Bar, Gordon Biersch Brewery, and Restaurante Palomino.
Endorsements:
Blue Bottle's releasing a book next week. Don't miss it.
Food Network does Mondrian (not Serra)
The Work of Mr. Paul Clipson